Logistics (Warehouse Management)
Digitization of logistics - SAP solutions for warehouse management
Current challenges such as digitization, a constantly changing market and dynamic supply chains mean that warehousing is faceing new requirements. Ever faster, more stable and yet flexible processes are required in order to have the desired goods available at the right place at the specified time. Mastering these tasks represents a significant competitive advantage over competitors. A modern and future-oriented warehouse management solution from SAP provides support for all these challenges.

Full integration of warehouse processes into adjacent areas

Reduction of paper-based processes through mobile data capture

Connection and control of automated warehouse technology

Digitization and transparency in the supply chain
Full integration of warehouse processes into adjacent areas
Reduction of paper-based processes through mobile data capture
Connection and control of automated warehouse technology
Digitization and transparency in the supply chain
Do you have questions about warehouse management?
Contact: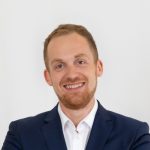 SAP Extended Warehouse Management (SAP EWM) is the modern and sustainable warehouse management solution from SAP. EWM represents the central solution platform for the complete supply chain in your company. It serves the central control, execution and final tracking of the processes in the warehouse. The size of the respective warehouse plays a subordinate role because the Warehouse Management System (WMS) can be scaled according to the individual requirements and thus is ideally adapted to your needs through various solution architectures and process automation.
Extended Warehouse Management can be fully integrated into the SAP infrastructure under sap S/4HANA or SAP ECC. If redundancy and failure safety in the warehouse are crucial, the decentralized architecture variant of EWM is an excellent solution for this.
With EWM from SAP, you are choosing the most up-to-date, innovative and globally used warehouse logistics platform.
Goods receipt
Possibility to check the products when they arrive in the warehouse

Preparation of goods for storage

Possibility of handling external as well as internal deliveries
Internal processes
Efficient and cost-effective use of space and resources

Possibility to react flexibly to short-term requirements

High level of automation and analysis possibilities
Material flow control
Provided by SAP EWM for the control of automated warehouse systems such as automated small parts and high-bay warehouses and self-propelled floor conveyor vehicles

Enables the control, optimization and integration of automated warehouses without the need for an additional material flow computer

Shipping
Handling of all warehouse relevant processes from order to issue of goods within SAP EWM

Easier compliance with delivery dates towards your customers
Production supply
In-time and quality provision of all components at the corresponding installation location

Seamless integration with production

Demand-driven control of warehouse processes
What makes One Passion stand out as your SAP partner
In logistics, especially in the warehouse, every single second often counts. Process optimization in order picking, fail-safety and consistent concepts from goods receipt to the dispatch of components play a decisive role in this. We support you with our experienced SAP WM/EWM consulting team - from planning to implementation, commissioning and later maintenance of your new SAP EWM warehouse management system. Our customers appreciate our know-how, understanding of the logistic process and our technical experience in SAP products.
Application areas of SAP EWM
Are you currently still using SAP Warehouse Management or are you at the beginning of your SAP S/4HANA project?
SAP has discontinued the previous warehouse management solution (SAP WM) as of the end of 2027 (status 04.02.2021), so that SAP will no longer provide support for this solution as of this date. Therefore, it is necessary for all SAP users who have been using SAP WM up to now to carry out an analysis of the existing logistics processes in order to transfer them to a new and future-oriented system landscape.
We would be happy to advise you on the development of your global roadmap for future warehouse processes. Our consultants are happy to support you in a free initial meeting to provide a brief analysis and develop possible solutions.
Are you still looking for your future master plan for your digital warehouse processes? Contact us!
Unsere zufriedenen Kunden sagen:
Gustav Gans, Gimpel GmbH
Unser neues Management-Dashboard ermöglicht uns...
Erwin Eumel von der Erdbeer AG sagt:
Super gemacht Jungs, gerne Immer wieder!